Green Audit USA + SunPower Solar

GO SOLAR: Be Green, Save Green
Utility rates increase every year. You have the power to plug this leak in your bank account and take control of your utility bills. By adding a solar installation to your home you can reduce your electricity bills significantly. And, supporting clean energy!
SAVINGS
· SunPower solar panels make more power for more savings.
· Qualified customers can turn daylight into dollars for $0 down.
· Lower your energy bill with the highest efficiency solar panels available
More power means more savings. SunPower's unique technology is built-to-last when conventional panels lose power with age. No other home solar technology converts more sunlight than SunPower, giving customers an incredible 70% more energy in the same space over 25 years—resulting in more savings over time.
BEST TECHNOLOGY
· Outperforms, Outlasts, Outshines
The technology behind SunPower home solar is unique—and better—than convential panels. Designed in the USA, our systems make more electriciy from every ray of sunshine, and stand stronger against severe weather conditions. All in our sleek, sophisticated design. So you get more power, more durability, and more compliments than any other system available today.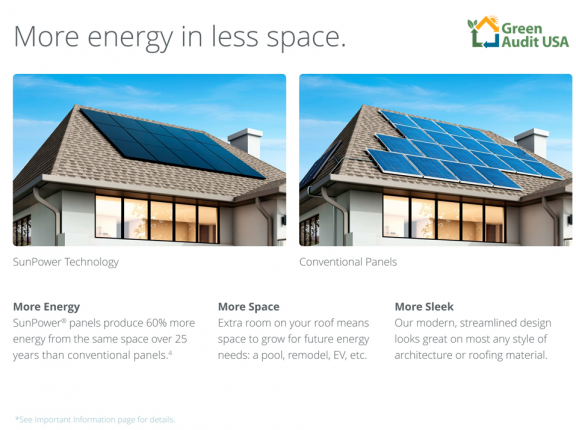 WHY GREEN AUDIT USA FOR SOLAR?
Green Audit USA is the only company on Long Island authorized for both Solar Installation and Home Performance with Energy Star. We are experts at Home Energy Efficiency, providing whole-home solutions from roof-to-basement, from top-to-bottom.
We consider both solar generation and energy efficiency so we are able to find the BEST ways to save you money while addressing the issues of comfort, health, safety and durability.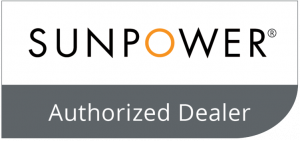 Green Audit USA + SunPower Panels
Green Audit USA is proud to be an authorized dealer of SunPower Solar Panels. Since 1985 SunPower has been the leading global solar innovation. SunPower solar panels consistently deliver more energy and long-term peace of mind with the highest performing solar power systems available. SunPower is the solar energy choice of more homeowners and bussinesses around the world.
HOW DO I GET STARTED?
Getting started is easy. Green Audit USA will provide you with a free solar energy consultation.
We will show you the best solution for your home and exactly how much money you can save. Simply give us a call at (631)-813-4446 or email us at Solar@greenauditusa.com.
Click Here for Frequently Asked Questions
APPLY FOR YOUR FREE HOME ENERGY & SOLAR ASSESSMENT
From PSEG Long Island and Green Audit USA!
Testimonials
Everyone was polite and in good spirits, even though they were in our attic!! All of our concerns and questions were answered immediately by ALL staff. It was a very thorough process and a great experience!